How do we give the gift of legacy this Christmas, and not just give more stuff that will end up in a landfill a few years from now?
---
From Heartlight
I remember your genuine faith, for you share the faith that first filled your grandmother Lois and your mother, Eunice. And I know that same faith continues strong in you. This is why I remind you to fan into flames the spiritual gift God gave you when I laid my hands on you. For God has not given us a spirit of fear and timidity, but of power, love, and self-discipline (2 Timothy 1:5-7).
Thirty years ago, on the Tuesday before Thanksgiving, a sewer line collapsed down the line from us and flooded eight houses on our street. One of those houses was our house. While we had the least damage — over $18,000 to fix and clean — I lost a New Testament given to me by grandparents the Christmas of 1959. I had just turned five-years-old. My grandfather, Gordon Phillips, had written a simple dedication to me, along with the occasion for the gift, in the front of that New Testament.
My grandfather passed from this life to Jesus less than a year later. So, when the sewer flood ruined this New Testament, I lost my only handwritten record from Daddy Gordon. The emotions I felt as a boy not quite six-years-old, losing his beloved grandfather, came flooding back to me. His death was fresh to me again; only this time, I was an adult dealing with grief through the memories of a little boy who adored his Daddy Gordon.
Later, when I stumbled onto a picture of me with my Daddy Gordon from an earlier Christmas, my heart skipped a beat. I was in Daddy Gordon's lap, and he was putting on my new red cowboy boots he and Mama Faye had gotten me for Christmas. The loving, comfortable joy captured in that picture still touches my heart. The writing on the picture reads, "Christmas! A time for red boots and memories."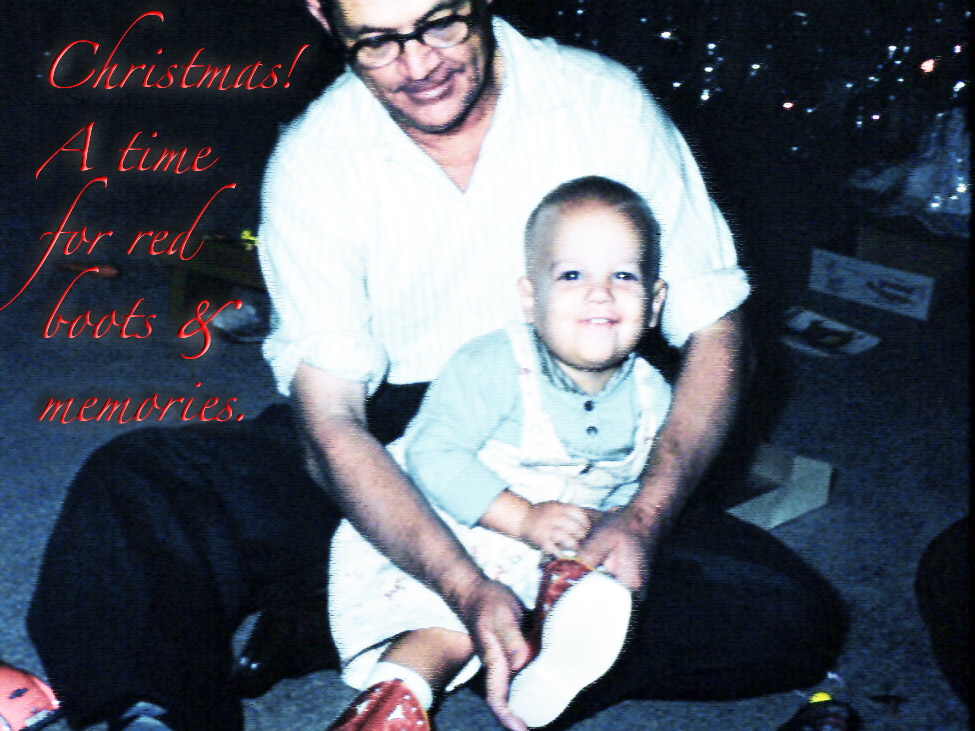 This picture brought back much more to me than that long-ago Christmas of red boots. Even though I was less than six-years-old when Daddy Gordon passed from this life, I still remember many things — the many times that Daddy Gordon took me fishing in the Gulf of Mexico, the big toy boat he made for my younger brother and me, his prayers at meals, his wrapping a rope around his waist and pulling me behind him on a tricycle as he mowed, the inscription in the New Testament, along with the emotions and other-world memories of that awful day he died.
The loving, comfortable, joy captured
in that picture still touches my heart.
Most of all, my Christmas picture of Daddy Gordon, me, and my red boots reminded me of the power of legacy. My Daddy Gordon was a church leader, work leader, husband, father, and grandfather who loved Jesus. He passed that love and faith on to his daughter, my mother, and me. Yes, he left this earth before I was six, but his legacy of love and faith lives on through my son and daughter and now lives on through my grandsons. I've been granted many more years than he had, but I pray that my legacy lives long beyond my passing in the hearts of my children and grandchildren.
We live for our grandchildren to pass on their faith to their friends and family — or at least we should (2 Timothy 2:1-2). Leaving a legacy of faith requires intentional effort and the investment of our hearts in future generations. Social distancing has made that more difficult this year, but love and faith find a way. So, I hope you will join me in doing more than just "Amazoning" some stuff to be delivered to your children and grandchildren this Christmas. Let's prayerfully give the gifts of love and faith as a legacy for those we love along with any of our Amazon delivered gifts. After all, Christmas is a time for red boots, memories, and leaving a legacy of faith and love.